News:
April 2012
Somerville cop, 44, dies in motorcycle accident on N.J. Turnpike
Published April 29, 2012

A veteran of more than 10 years on the Somerville Police Department known for his humor, generosity and love of his job, was killed in a motorcycle accident in Jersey City, authorities said.

Officer Claude Racine, of Paramus, was riding his 2006 Harley Davidson motorcycle eastbound on the eastern spur of the New Jersey Turnpike at 11:44 p.m. Wednesday when he lost control, according to

State Police Lt. Stephen Jones.

Though Racine was wearing a helmet, he suffered a serious head injury and was pronounced dead at Jersey City Medical Center shortly after midnight, Jones said. He was 44.

"The guys are very down, very upset," said Somerville Police Chief Dennis Manning. "He was a very well-liked officer by his peers and by everybody in town."

A passenger, Kerri Bloodgood, was also thrown from the motorcycle and suffered moderate injuries. She was reported in stable condition at Jersey City Medical Center last night.

Jones said the accident remains under investigation.

Hired in 1998, Racine was respected within the 30-officer department, and rode the borough's only motorcycle on patrol, Manning said.

Racine also helped run a youth police academy program, participated in the Police Unity Tour, and volunteered at every possible opportunity, he said.

"He was a good man, a regular guy, and he loved being a police officer," Manning said.

A prankster with a flair for drawing caricatures of his colleagues at work, some 15 to 20 of his drawings are posted in the headquarters of the department, said Manning.

On the streets of the small community, Racine always had a smile and a wave for residents, said Mayor Brian Gallagher.

"Obviously, it's a tragedy for his family and our borough," he said.

A viewing is scheduled for Sunday from 2-6 p.m. at the Volk Leber Funeral Home at 268 Kinderkamack Road in Oradell.

The funeral is scheduled for Monday at 10 a.m. at the Church of the Annunciation at 50 West Midland Avenue, in Paramus, with a burial following the service at Holy Cross Cemetery at 340 Ridge Road in

North Arlington.
By Stephen Stirling and Tomás Dinges/ The Star-Ledger
Feds Begin Penalizing States That Haven't Adopted U.S. Sex Offender Law
Published April 29, 2012

Nearly six years after the federal Adam Walsh Child Protection and Safety Act was enacted, the U.S. Justice Department is beginning to penalize many of the states that have failed to follow its provisions.

The latest count shows that only 15 states are in "substantial" compliance with the Sex Offender Registration and Notification Act (SORNA) parts of the Adam Walsh law, long after a deadline of last July.

The 2006 law expanded the categories of crimes requiring registration and increased the length and frequency of registration for some adults and juveniles. Many states believe that the federal

requirements are too costly and burdensome, deciding that they will give up some U.S. anticrime aid rather than retool their sex offender registries in line with the federal law.

The Crime Report previously noted, for example, that Texas had estimated that it would have to spent nearly $39 million to comply with SORNA but would lose only $1.4 million in federal funds if it didn't

act.

Some states have declined to comply on policy grounds, most commonly disagreeing with the federal requirement that juvenile sex offenders involved in violent crimes be registered for life. Their first

opportunity to ask a court to end their registration would not be available until 25 years after they are listed on a registry, a requirement that some states believe is too harsh.

States had been threatened with a 10 percent cut in aid from Washington. In practice, the cuts ordered by Justice Department will not go so deeply. Only federal money going solely to state governments

will suffer the 10 percent reduction, not the relatively large amount of U.S. aid destined for local governments.

This was the course urged by the National Criminal Justice Association, representing states and localities, which argues that local programs "should not be penalized because of a state's policy on sex

offender management." As a result, the potential penalty to most states will be cut roughly in half, depending on how much of the state's federal aid ends up in local hands.

The only states in compliance with SORNA are Alabama, Delaware, Florida, Kansas, Louisiana, Maryland, Michigan, Mississippi, Missouri, Nevada, Ohio, South Carolina, South Dakota, Tennessee, and

Wyoming.

All of the remaining 35 states may not suffer a loss of federal funds. If the Justice Department determines that a state is actively attempting to comply with SORNA, its federal aid may continue without

interruption. Several more states may comply this year, depending on action by legislatures that may still be in session.

The proportion of federal money that a non-complying state may lose will differ depending on the state's level of compliance. In some states, federal money that otherwise would have gone to anticrime

work not involving sex offenders might be shifted to help the state get into compliance with SORNA. The bottom line is that some anticrime programs around the U.S. now will experience funding cuts if

they are located in states that have failed to meet SORNA's requirements.
Authorities in Mexico join search for missing Arizona girl
Published April 29, 2012

TUCSON, ARIZ. – The search for a 6-year-old Arizona girl who disappeared from her family's home has extended to Mexico, authorities said Friday.

U.S. Marshals have been in touch with Mexican law enforcement officials who are checking hotels, bus terminals and other businesses as they help look for Isabel Mercedes Celis, according to Tucson

police. A photo of the first-grader is being circulated in Mexico as well.

Police began looking at the possibility that Isabel could have been taken there because of Tucson's close proximity to the border, Lt. Fabian Pacheco said.

The girl's parents reported her missing last Saturday, saying they last saw her in her bedroom the night of April 20 and discovered she was missing the next morning, according to police.

Police say a window was open with the screen pushed aside.

"We can say it's highly unlikely Isabel got up and walked out on her own. I would definitely say our investigation gears toward that—that someone is responsible for the disappearance of Isabel," Police

Chief Roberto Villasenor said.

Officers also said Friday that they are searching for five possible witnesses, who appear on surveillance footage posted to police department's official Youtube channel.

The video, which runs a little more than a minute, shows two males and three females—walking in a parking lot in the direction of the Celis home last Saturday between 1 and 1:30 a.m.

Villasenor said they are hoping to identify anyone on the video in case they are potential witnesses or have information useful to the investigation.

Villasenor advised the public to come forward if they notice anyone who showed changes in normal activities or behavior Saturday or the days since.

Investigators spent Thursday night combing through the lake at a local park with sonar equipment. They said they were acting on a tip, but wouldn't elaborate.

Officers also searched bodies of water in other city parks.

Pacheco said police are also looking for any video from a baseball game that Isabel's family attended the night before she disappeared.

Associated Press
One of nine people sentenced to 40 years after fatal group attack of Jersey City man
Published April 21, 2012

Lucius Smith, 20, of Jersey City, speaks during his sentencing yesterday in Hudson County Superior Court in
Jersey Cityh with his lawyer, Jim Sheehan, by his side. REENA ROSE SIBAYAN/JOURNAL PHOTO
A 20-year-old Jersey City man was sentenced today to 40 years in prison for the 2009 felony murder of a 26-year-old man who was beaten with a brick, kicked and punched by nine boys in a deadly game of "knock out."

In handcuffs and wearing a green Hudson County Corrections Center uniform, Lucius Smith today apologized to the victim's mother before Superior Court Judge Fred Theemling handed down the sentence.
"I am sorry what I did. I am sorry what happened to your son," Smith said. "I think about it every day."

Smith, 20, must serve 85 percent of the 40-year sentence before he is eligible for parole.
A jury convicted Smith in March of felony murder, robbery, conspiracy to commit robbery and aggravated assault.

A total of nine juveniles ranging in age from 13 to 17 were charged in the Feb. 24, 2009 attack on Carlos Orlando Quinones, 27, of Monitor Street, but four had their charges waved up to criminal court for prosecution as adults.

Speaking on behalf of the mother, who was too distraught to testify, Hudson County Assistant Prosecutor Laura Magnone told the court the mother's life had "drastically" changed after the loss of her youngest son, an incident that led to her losing her job and suffering from various illnesses.

Describing Quinones as a "good" and "quiet" person, Magnone said he had come from Puerto Rico to New Jersey to find work and become an organ donor after his death.

Asking for Smith to be sentenced to 50 years behind bars, Magnone described him as the leader of the group and the person who struck the victim with the brick. Magnone said that Smith had made a

statement to authorities saying that the boys often played "knock out," a game where they would approach a homeless person and hit him with a brick until he lost consciousness.

The other alleged attackers charged as adults were Markise Dawson of Claremont Avenue and Augustus Bey of Dwight Street, who were both 17 years old when waived up to criminal court, and Tyshaun Shannon, of the Montgomery Gardens housing complex, who was 18 years old.

Asking today for the minimum sentence for his client, defense attorney Jim Sheehan asked the judge to consider that Smith's age was 17 at the time of the attack, adding that his client was one of "many, many individuals" involved in the incident.

"To see that on tape was shocking to everybody, but it was the group mentality, the pack mentality," Sheehan said."The defendant has been remorseful from day one."

Sheehan added: "If there was a time machine and he could back and change what happened that night he would."
Smith's mother, two sisters and brother spoke on the defendant's behalf.

"This is my baby boy," his mother said through tears "He did wrong."

A witness to the 2009 attack told police Quinones was walking at Cornelison Avenue and Florence Street when the boys surrounded him. When Quinones resisted and the boys found he had no money, the homicidal attack began, Magnone said.

Quinones was left in critical condition and in a coma at the Jersey City Medical Center, and it was days before police were able to identify him. He never regained consciousness before he died on March 3, 2009 as a result of injuries from the attack.
Toms River man gets 45 years in prison for 1997 murder of Asbury Park teen
Published April 21, 2012
FREEHOLD — A 39-year-old man was sentenced Friday to 45 years in prison for a 1997 murder of an Asbury Park teen who was burned, beaten, choked, hanged and stabbed, according to a report published by The Asbury Park Press.

Sean Harris was convicted in January of the 15-year-old murder of Andre Williams, 19. Detectives got a break on the unsolved case in 2009, when the Monmouth County Prosecutor's Office got information
from a narcotics case that led to Harris and six co-defendants.

The attack allegedly began in Harris' apartment after he accused Williams of robbery. Williams' corpse was later found in a Neptune park.

Harris must serve at least 35 years of his prison term. Five of his six co-defendants - all of whom entered guilty pleas and testified against him - have received prison terms, and the sixth is awaiting sentencing.
Parents of triplet killed in Chesterfield crash sue bus company, owners of dump truck involved in ac
Published April 21, 2012

Investigators view the scene of a school bus crash Thursday, Feb. 16, 2012, in Chesterfield, N.J. State police
at the scene of the school bus crash say a child has died in the accident, and that the child is the daughter of
a state trooper. The bus collided with a dump truck at about 8:30 a.m. at a Route 528 intersection in Chesterfield.
(AP Photo/Matt Rourke)
CHESTERFIELD — The parents of an 11-year-old southern New Jersey triplet killed in a school bus crash have sued the bus company and the owners of a dump truck that collided with the bus.

The Courier-Post of Cherry Hill reports the lawsuit, which seeks unspecified damages, also names both drivers as defendants. It was filed Thursday in state Superior Court.

The Feb. 16 accident in Chesterfield killed 11-year-old Isabelle Tezsla. Her triplet sisters and another 11-year-old student were seriously injured in the crash, but all three have since been released from the hospital.

In their lawsuit, Anthony and Susan Tezsla claim the defendants' "negligence and recklessness" led to Isabelle's sisters witnessing her death.

Authorities said Friday that neither drugs nor alcohol played a role in the crash, which remains under investigation.
N.J. adds 4 new locations to safely dispose of prescription drugs
Published April 19, 2012

New Jersey is opening four new locations where residents can safely dispose of unused prescription drugs.

TRENTON— State authorities said today they are doubling the number of places in New Jersey where residents can safely dispose of unused prescription drugs.

As part of the expansion, Covanta Energy Corp, a Morristown-based waste-to-energy and renewable energy company, has agreed to destroy the medicine for free, Attorney General Jeffrey Chiesa said in a news release.

The initiative, dubbed Project Medicine Drop, will expand to locations at the Cherry Hill Police Department, Somerset County Sheriff's Office, Lower Township Police Department and the Toms River Police
Department, Chiesa said.

Under the initiative, the Division of Consumer Affairs installs lockable, metal drop boxes at select police and sheriff's officers. Members of the public can dispose of unused prescription drugs at any time, no questions asked, Chiesa said.
By Christopher Baxter/Statehouse Bureau
The goal of the program is to get unused prescription drugs out of household medicine cabinets, where they are often found by teenagers and young adults who abuse them and become addicted.

The initiative began in November with locations at the Little Falls Police Department, Seaside Heights Police Department and Vineland Police Department. But Chiesa said residents turned in far more drugs than expected, and the departments were faced with the high cost of having to dispose of them.

Covanta has agreed to accept the drugs and destroy them, as it does in other states. The process is approved by the state Department of Environmental Protection, Chiesa said.
N.J. Child-Pornography Probe Nets 27
Published April 18, 2012
April 18—Twenty-seven people have been arrested in a three-month child-pornography investigation in New Jersey, including a Pennsauken man who was downloading images when police swarmed his

home, state Attorney General Jeffrey S. Chiesa said Tuesday.

The suspects, who lived in more than two dozen towns, nearly half in South Jersey, are charged with distribution and possession of child porn. Three remain at large and have not been identified by police.

Eleven suspects are from South Jersey municipalities, including Lindenwold, Audubon, Maple Shade, Pennsauken and Camden. The youngest is a 17-year-old Moorestown male who was not identified

because he is a juvenile.

One suspect, Charles E. Jones, is the director of public works in Morristown, Morris County.

Most of the suspects have been released on their own recognizance and a handful are being held in the Camden County Jail.

"Those who thought they could hide their child porn crimes in the secrecy of their homes have been exposed by the relentless work of law enforcement working together," State Police Superintendent Col.

Rick Fuentes said.

The suspects allegedly used the Internet to download or distribute the images, and detectives traced digital fingerprints as the pictures passed through cyberspace.

The first suspect, Cesar Salgado-Maya, 23, of Audubon, was arrested March 1 when authorities discovered that he was living near a day-care center on White Horse Pike. He was being held in the county

jail on $52,500 bail.

Pennsauken resident William J. Brooks, 66, was running a file-sharing program on his computer with several child-porn images when a warrant was served on his home, according to officials. He is being

held in the Camden County Jail on $300,000 bail.

The other South Jersey suspects: Ryan Taylor, 27, Lindenwold; Joshua Ferreri, 25, Berlin Township; Christopher Guzman, 32, Camden; Lucas F. Walsh, 24, Maple Shade; Armondo Flores, 46, Bridgeton;

Collin Tillet, 29, Hamilton, Atlantic County; Bernard Cahill, 53, Folsom; and Max Mejia, 46, Atlantic City.

DARRAN SIMON
THE PHILADELPHIA INQUIRER
Even as Violent Crime Falls, Killing of Officers Rises
Published April 11, 2012

A vigil for four police officers from Buchanan County, Va., who were shot in March 2011. Two were killed, and two were wounded.

WASHINGTON — As violent crime has decreased across the country, a disturbing trend has emerged: rising numbers of police officers are being killed.
According to statistics compiled by the Federal Bureau of Investigation, 72 officers were killed by perpetrators in 2011, a 25 percent increase from the previous year and a 75 percent increase from 2008.

The 2011 deaths were the first time that more officers were killed by suspects than car accidents, according to data compiled by the International Association of Chiefs of Police. The number was the

highest in nearly two decades, excluding those who died in the Sept. 11 attacks in 2001 and the Oklahoma City bombing in 1995.

While a majority of officers were killed in smaller cities, 13 were killed in cities of 250,000 or more. New York City lost two officers last year. On Sunday, four were wounded by a gunman in Brooklyn,

bringing to eight the number of officers shot in the city since December.

"We haven't seen a period of this type of violence in a long time," said Commissioner Raymond W. Kelly of the New York Police Department.

While the F.B.I. and other law enforcement officials cannot fully explain the reasons for the rise in officer homicides, they are clear about the devastating consequences.

"In this law enforcement job, when you pin this badge on and go out on calls, when you leave home, you ain't got a promise that you will come back," said Sheriff Ray Foster of Buchanan County, Va. Two

of his deputies were killed in March 2011 and two wounded — one of them paralyzed — by a man with a high-powered rifle.

"That was 80 percent of my day shift," he said.

After a spate of killings in early 2011, Attorney General Eric H. Holder Jr. asked federal authorities to work with local police departments to try to come up with solutions to the problem.

The F.B.I., which has tracked officer deaths since 1937, paid for a study conducted by John Jay College that found that in many cases the officers were trying to arrest or stop a suspect who had previously

been arrested for a violent crime.

That prompted the F.B.I. to change what information it will provide to local police departments, the officials said. Starting this year, when police officers stop a car and call its license plate into the F.B.I.'s

database, they will be told whether the owner of the vehicle has a violent history. Through the first three months of this year, the number of police fatalities has dropped, though it is unclear why.

Some law enforcement officials believe that techniques pioneered by the New York Police Department over the past two decades and adopted by other departments may have put officers at greater risk by

encouraging them to conduct more street stops and to seek out and confront suspects who seem likely to be armed. In New York and elsewhere, police officials moved more officers into crime-ridden

areas.

"This technique has become more popular across the country as smaller departments have followed the larger cities and tried to prevent crime," said Chuck Wexler, executive director of the Police

Executive Research Forum. "Unlike several decades ago, there is this expectation that police matter and that police can make a difference."

Commissioner Kelly said, "We try to put those officers where there is the most potential for violence." However, he pointed out that most of the officers who have been shot in New York since December

were not part of a proactive police deployment but were responding to emergencies.

Some argue that the rise in violence is linked to the tough economy. With less money, some states are releasing prisoners earlier; police departments, after years of staffing increases, have been forced to

make cutbacks.

"A lot of these killings aren't happening in major urban areas," said James W. McMahon, chief of staff for the International Association of Chiefs of Police. "One of the concerns we are looking at is that a

number of officers are being laid off or furloughed or not replaced."

The police chief in Camden, N.J., J. Scott Thomson, whose force of 400 was cut by nearly half last year because of financing issues, said that having fewer officers on the street "makes it that much more

difficult to create an environment in which criminals do not feel as emboldened to assault another person, let alone a law enforcement officer."

The murder of a veteran officer last April in Chattanooga, Tenn., was typical of many of the 2011 episodes.

Sgt. Tim Chapin, a veteran nearing retirement, rushed to provide backup to officers who had responded to reports of a robbery outside a pawnshop and were under fire. Sergeant Chapin got out of his car

and chased the fleeing suspect, who had been convicted of armed robbery. During the pursuit, the sergeant was fatally shot in the head.

As part of the F.B.I.'s efforts to prevent officer deaths, the bureau trains thousands of officers each year, highlighting shootings like the one in Chattanooga to teach officers about situations in which they

are most vulnerable. Those situations are typically pursuits, traffic stops and arrests, said Michelle S. Klimt, a top F.B.I. official at its Criminal Justice Information Services Center in Clarksburg, W.Va., who

oversees officer training.

"Every stop can be potentially fatal, so we are trying to make sure the officers are ready and prepared every single day they go out," Ms. Klimt said. "We try and teach that every day you go out, you are

going to be encountered with deadly force by someone trying to kill you."
Gang Activity In New Jersey Continues To Worsen
Published April 11, 2012

Despite efforts by law enforcement, gang activity continues to grow in Jersey.

State Attorney General Jeff Chiesa says traditionally gangs have operated in the inner cities, "but we shouldn't kid ourselves – they're in every community in this state – in one way or another – and they

love to really infiltrate every community in this state."

Gang Awareness Guide (PDF)

He says " gangs are indiscriminate in their violence, they're indiscriminate in the way they go about terrorizing neighborhoods – and the way they operate does not follow traditional organized crime

patterns- and they don't care if they injure or kill a law enforcement officer or a public official or indiscriminately pick somebody out of a neighborhood- as someone who will be their victim of an initiation…

they really don't operate by any set of rules at all, and they use threats to families, they use threats to neighborhoods to force young people to join the gangs – they try to create a sense of hopelessness."

Police Units Focus On Disrupting Gangs' Drug, Weapons Trade

Chiesa adds different gang units around the state, including Atlantic City, are now focusing on long-term disruption of the gangs, "and that means go after their drug trade, go after their gun trade, go

after whatever illegal activities they may be engaging in to sustain themselves…we have very good gun laws in New Jersey and we have very talented, dedicated law enforcement officers who are doing

very dangerous work to infiltrate these gangs and disrupt them – and will continue to do it."

He says the State Police is working all over New Jersey in urban settings and non-urban settings to help with the gang problems.

"We'll use all of the high tech surveillance and investigative techniques to gain access to information, to find out exactly what their plans are – and how they're going to go about them – if that means wire

taps – whatever- we'll do all of those things… nevertheless, the real terror here is neighborhoods and families feel held hostage by these gangs – because if you happen to be out in your yard at a picnic-

you read about these tragic circumstances where they'll just come along side in a drive-by shooting and just fire away – innocent and very young people have been killed tragically in these situations…it's a

big problem, it's a significant problem that we're allocating our resources to – state police resources, the county prosecutors do a great job."
National Database Planned to Combat Cellphone Theft
Published April 11, 2012
WASHINGTON — The soaring popularity of smartphones has produced an unwelcome, if predictable, side effect: an epidemic of smartphone thefts.
Now, police departments, the Federal Communications Commission and the wireless phone industry have devised a plan to fight back: the creation of a central database to track stolen phones and prevent

them from being used again.

On Tuesday, Julius Genachowski, the chairman of the F.C.C., is scheduled to join police chiefs from New York, Pennsylvania and Maryland and representatives of a wireless industry trade group to

announce the new plan, which will allow wireless providers to disable and block further use of a device once it is reported stolen.

The groups are also working with members of Congress to write legislation that would make it a federal crime to tamper with a phone's unique identifiers in an attempt to evade the blocking process.

"It's just too easy for a thief to steal a phone and sell it on the black market," Mr. Genachowski said. "This program will make it a lot harder to do that. And the police departments we are working with tell

us that it will significantly deter this kind of theft."

Over the last year, roughly one out of three robberies nationwide have involved the theft of a cellphone, according to an F.C.C. summary of the new plan. The thefts have grown most rapidly in urban

areas; cellphones are stolen in more than 40 percent of all robberies in New York City and 38 percent of robberies in the District of Columbia, according to the groups.

"Our goal is to make a stolen cellphone as worthless as an empty wallet," said Senator Charles E. Schumer, the New York Democrat who plans to introduce legislation to criminalize tampering with a

phone's unique identifier.

Because many smartphone owners use the devices for financial transactions, the phones often contain sensitive personal data. As part of the program, wireless carriers plan to educate consumers on how

to remotely lock their phones, delete personal information and track a device's whereabouts.

Over the next six months, each of the four largest carriers — Verizon Wireless, AT&T, Sprint and T-Mobile — is expected to put in place a program to disable phones reported as stolen, preventing them

from being used on their own networks. Within 18 months, the F.C.C. plans to help the companies merge their databases to create a national program that also prevents a phone from being altered to use

another carrier's network.

By EDWARD WYATT
Philly Cops Bust Crime In 140 Characters Or Fewer
Published April 11, 2012

Philadelphia Police Detective Joseph Murray of West Philadelphia is an advocate of police tweeting to help engage the community in fighting crime.

The Philadelphia Police Department is adding a new tool to its crime-fighting arsenal — Twitter. Supporters say the real-time information-sharing could help police build a stronger rapport with residents and

better protect them.

West Philadelphia resident Mike Van Helder remembers when police knocked down his neighbor's door at 6 a.m. "There was shouting and loud noises and of course I didn't know what it was about," Van

Helder recalls. "And them being my next door neighbors, I was understandably concerned."

So Van Helder tweeted Detective Joseph Murray for more information.

"He couldn't get back to me immediately, but early the next day, he let me know that it was the Major Crimes Unit serving a warrant on the next-door neighbors," Van Helder says.

Murray had started tweeting on his own, before the department launched its tweeting initiative. And he didn't just tell residents about past crimes. He says he also tried to be proactive.

"I didn't want people in the area that I police to not know what's going on," Murray says. "I felt I had a responsibility to the people that I'm paid to protect to let them know about burglary patterns, robbery

patterns in their area so they don't walk right into the middle of one."

A few months ago the department asked Murray to stop, temporarily, so he could learn about the its social media policy and training.

Karima Zedan, director of communications for the Philadelphia Police Department, says the department wanted to fit Murray into a larger plan to train around 15 police officers across the city to use Twitter

by the end of April. "We want officers, actually of various ranks — police officers, detectives, captains — across the whole city to embrace this new way of communicating," Zedan says.

Zedan says she thinks Philadelphia may be one of the first police departments in the U.S. to train officers to tweet on the beat. She says the tweeting will allow cops to communicate about crime and safety

with residents of individual neighborhoods.

Now, with the department's blessing, Murray is back on Twitter. And Van Helder is relieved.

"Tweeting somebody versus walking down three or four blocks to talk to an officer where I know he hangs out is a lot more convenient," Van Helder says. "It's a lot safer, I feel, if I need to talk to him at

night."

But Van Helder says he's a little nervous about what kind of restrictions will be placed on the detective's tweeting.

Zedan says residents need not worry that Murray will be censored or that police will have to get their tweets approved. She wants officers to tweet things residents care about — not send out press

releases.

"We just don't want them tweeting information that is sensitive, that's sensitive to an investigation or classified information or information pertaining to victims, that's all," Zedan says.

Zedan says Murray did a good job of using Twitter to build a relationship with the community, and he'll help train other cops. Reaching the public 140 characters at a time might not be easy for some police.

Murray says some of his fellow cops make fun of his Twitter habit. He says his father — who still walks a beat — is amused.

"I'm not doing anything different than officers did in walking a foot beat," Murray says. "Going in and introducing yourself to business owners, residents — it's the same thing. It's just a more modern

version of it. So people know who you are, you know, and they're going to trust you more."

Murray says the more that residents trust the police, the more willing they will be to provide information.

by ELIZABETH FIEDLER
Thieves Steal Car Registrations to Find and Rob Empty Homes
Published April 11, 2012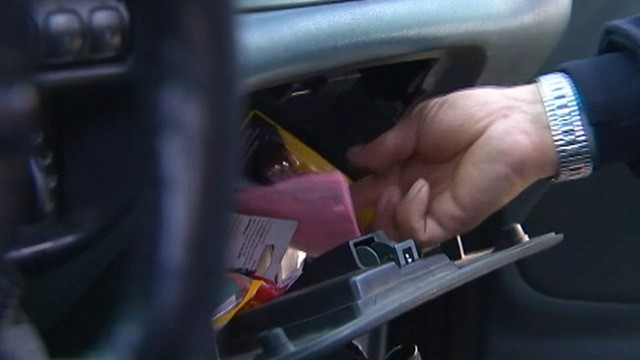 Kings County, Wash., Sheriff's Department deputies suggest locking your glove compartment or taking your vehicle registration with you when you park your car. (KOMO/ABC News)
Thieves in Seattle are finding a new way to target victims: stealing vehicle registrations from cars parked at movie theaters, checking the address of the registration, and heading straight for the vehicle

owners' homes for a two-hour stealing spree.

The Kings County, Wash., Sheriff's Department has responded to four reports of car burglaries in the past two weeks that have turned out to be much more than a smash-and-grab thefts.

As moviegoers arrive in the parking lot and leave their cars to go inside, vigilant thieves swoop in, smash the passengers' side window and reach into the glove box to steal one vital piece of information:

their car registration.

"I would imagine that they probably watch the people pull up to movie, figure they're going to be gone for two hours. It's likely that they'll knock on the (car owner's) door to see if someone's home, and if

not, go around back to break in," said Sgt. Cyndi West.

Gary Van Wieringen, a Washington resident whose car and home were broken into, said he never thought to take his registration with him when leaving his car.

"Redmond police showed up within four minutes. Their first question to us was, have you checked for your registration?" Van Wieringen, whose house was robbed while he watched a movie, ABC News

affiliate KOMO. "Like the sign says, don't leave your valuables in the car. But it doesn't say don't leave your registration in the car."

When the individuals emerge from the movie or dinner to see their car window broken, they call police, but often don't realize that the thieves are already nearly finished robbing their homes.

"In all of our cases, nothing else was taken, and then when the individual gets home from the movie or wherever, the house had been broken into," West said.

Police suspect that the four Seattle crimes are related, but are warning residents to be aware of copycat burglars.

"At the very least lock your glove box," West said. "It's just a deterrent. It's not going to keep someone with the right tools out. Or keep you registration on you. If there's only one person operating the

vehicle, keep it on so you have it available."

West warns against hiding vehicle registrations in the trunk or under a floor mat because, in the event the driver gets pulled over by law enforcement and reaches to get their registration out, police could

mistake the hidden object for a gun. West advises drivers that do hide their registrations to tell police as they approach the car that the registration is under the seat and they'll have to reach to get it.

The Kings County Sheriff's Department is watching surveillance tape from the parking lots where the original break-ins occurred, West said.

By COLLEEN CURRY
Newark reducing police outside Prudential Center amid feud between Mayor Booker, N.J. Devils owner
Published April 11, 2012

Newark police officers Anthony Bagnano and Brian Costa watch as people trying out for "The X-Factor" enter the Prudential Center in Newark last April.

There have been some great feuds in the history of the world: Mary Queen of Scots and the Queen of England. Bugsy Moran and Al Capone. The Hatfields vs. the McCoys.

But do any of these really beat what's going on in Newark right now between the mayor and the owner of the New Jersey Devils?

It started last week with an arbitrators' decision over rent and parking revenues that went seriously bad for the city of Newark. Mayor Cory Booker responded the next day by calling Devils managing

partner Jeff Vanderbeek a "highfalutin huckster and hustler."

Then the mayor claimed he was denied tickets to Bruce Springsteen's sold-out performance next month at the Devils home, the Prudential Center — a conversation the Devils say never happened, but

may be moot in any case because the mayor has pledged never to set foot in the place again until the team resolves its difference with the city.

Now, in the latest chapter, Newark has decided to reduce its police presence around the downtown arena near Penn Station that is home to the NHL team.

Top police brass would not say how many were cut, but a smaller contingent of uniformed officers around The Rock was evident to Devils fans at Saturday's sellout game, some of whom said they had

trouble crossing streets.

Booker acknowledged that police had been reassigned.

"Obviously I'm not going to deny that the timing looks like a reaction (to the arbitration ruling)," he said. However, Booker claimed the decision has been a long time coming.

According to the mayor, the city was faced with a need for more police in the neighborhoods and reached the conclusion that it could do with a smaller presence at the Prudential Center, which has counted

nearly 8 million visitors since it opened in 2007.

Booker just as quickly added a dig at the Devils, doing nothing to change the perception that the decision to pull the police was anything other than payback. "It would be nice to have more revenue from

the arena so we could have hired more cops," the mayor said. "We believe that the Devils should be stepping up like other arenas in the region to provide security for their fans."

A spokesman for the Devils declined comment.

The relationship between Vanderbeek and Booker has grown sour over time.

The mayor — who once called Vanderbeek a good friend, a mensch, and a lifelong partner of the city — has increasingly been at odds with the Devils over Newark's contract with the team, negotiated by

the previous administration of fBooker, who had scored tickets to Friday's Springsteen concert at Madison Square Garden, responded that there was still a detail, "just not as large but still adequate."

There are normally between 18 and 20 officers patrolling the Prudential Center, according to a law enforcement source who spoke on the condition of annonymity because he was not authorized to discuss

personnel matters with the media.

Newark Police Director Samuel DeMaio yesterday said the re-organization of patrols was forced by a surge in retirements, and dismissed the idea that Booker was using the transfers to advance his

burgeoning feud with Devils management.

"It's not a draw down. Just a shift in resources," said DeMaio, noting that it was planned before the arbitration ruling came out. "I can't afford to pull resources out of the neighborhoods for the Pru center

any longer."

DeMaio said he may have to reduce the size of the Prudential Center detail even further, depending on public safety needs, adding that the arena may have to pay a little extra for safety in the future. He

would not say what the size of police squad would be for tonight's NBA game hosted by the New Jersey Nets.

He did say however that the size of the force would be increased when the Devils, who begin the Stanley Cup playoffs on the road against the Florida Panthers on Friday, play their first home game next

Tuesday.

"Pru may need to start hiring us through outside employment unit like the Red Bulls stadium does with us for soccer games and events," he said.

Booker insisted that the arena was one of the safest parts of the city and until now, Newark has gone above and beyond what is practiced in other area arenas.

"There are still police out there as well as security cameras and there should be no danger to fans coming to the arena whatsoever," he said.

By David Giambusso, Ted Sherman and James Queally/Star-Ledger Stafformer Mayor Sharpe James. At issue was a dispute over the sharing of parking revenues, rent payments, and construction delays.

In a court case initiated by the city's housing authority, the dispute went to binding arbitration and in a ruling last Tuesday, Newark lost big. While a panel of three arbitrators said the Devils must pay the

city roughly $14.7 million in back rent, relocation expenses and fines, that figure was offset with $15.3 million owed by the city in unpaid parking revenue, capital costs and excess taxes.

Booker's displeasure with the ruling led to an angry tirade last Wednesday, in which Booker — who is looking for a way to legally challenge the arbitration — accused Vanderbeek of misleading the city.

Calling him "one of the most despicable owners" in the National Hockey League, Booker labeled Vanderbeek a "high-class, highfalutin huckster and hustler."

The next day, in response to a reporter's question regarding distribution of tickets for the upcoming Bruce Springsteen concert at the Prudential Center, the Devils released an e-mail from Booker's

campaign office seeking 10 tickets to the sold-out event for the mayor. Booker claimed he was denied the tickets — which Prudential officials say is not true.

Newark launched the next salvo on Saturday, when the city unilaterally withdrew some of the cops assigned to the area around the Prudential Center and allowed streets normally closed for the game to

remain open, as the Devils closed their regular season with the Ottawa Senators.

Michael Spitz, a season ticket holder from Union Township, said it was obvious the police presence had been scaled back. "When we left the arena about 6 p.m., it seemed there were throngs of people

crossing the street and no police," he said. "They weren't there."

Several, including Spitz, took to Twitter to ask Booker what had happened to the police detail. Tweeted one: "@corybooker will you be happy when someone gets mugged at a playoff game? It's time to get

past your disagreement and make Newark safer."

Newark Mayor Cory Booker speaks to the media outside the Prudential Center last week. Booker was upset about an arbitrator's ruling against the city and in favor the New Jersey Devils.
Trenton council approves hire of new police director, business administrator
Published April 11, 2012
TRENTON — Mayor Tony Mack is hoping the second time's the charm when it comes to Sam Hutchinson taking over the city's vacant business administrator post.

To a round of applause from a crowd gathered in council's chambers, both Hutchinson and Ralph Rivera Jr., Mayor Tony Mack's pick to take over as director of the city's police department, were confirmed
by city council tonight after facing questioning by members of the governing body.

Hutchinson, a former top executive with the U.S. Department of Housing and Economic Development and a Maryland resident, was originally confirmed for the position by city council last year, but ended

up withdrawing his name several weeks later following a series of miscommunications about his expected start date.

Rivera is a former member of the New Jersey State Police and under sheriff in Bergen County.

Both candidates for the posts were solicited and vetted by the state Department of Community Affairs, which was required under terms of a $22 million aid award received by the city this year.

This evening, Hutchinson walked council through an explanation of his brief tenure last year as the city's business administrator-designate.

"I had come up to the city four or five times with respect to what I thought were confirmation processes," he said, saying that on at least one occasion he drove to the city for a council meeting only to find
the building was closed.

After finally being confirmed by council in January, he expected to start the job on Feb. 14 but ended up asking for an extension until Feb. 28.

"The mayor's concern was that the business administrator's position is a very critical position and it's one that he needed to be filled," he said. "What he shared with me, and we've always been open and
honest with each other, was that he had other candidates who were interested."

Mack ultimately ended up offering the job to Eric Berry, who eventually won confirmation but resigned barely six months later.

This time around, Hutchinson said he was planning to start the job on April 16. To meet the city's residency requirement, he said he'd signed an apartment lease in the Broad Street Bank building
downtown. However, in response to a question by Councilman George Muschal, he said he did not intend to move his family to the city.
Become a member and join us in taking an active role in our community.
View pictures from various activities and chapter-sponsored events.
Your tax-deductible donations will help us achieve our objectives.
Join our mailing list and stay up-to-date on our news and activities.
Get some great LPOANJ gear and show off your association.
NLPOA web site

Visit the national organization's site.